Adapted from comments to the Albemarle County Planning Commission 6 August 2019
By. Neil Williamson, President
At the outset, I want to be perfectly clear, Albemarle County Planning Commission actions on 30 July were legal; but that does not make them right.
Two weeks ago (7/23), the Planning Commission had a record crowd of mostly supporters for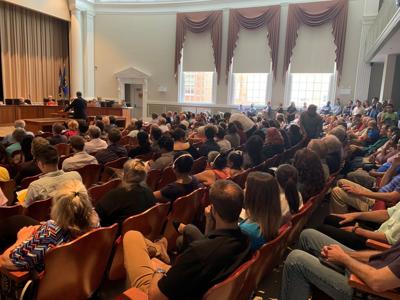 the Southwood Redevelopment project.  In my 16 years of this work, I believe it was one of, if not the, largest Planning Commission audience ever.
Hundreds of citizens came out to be a part of the public process.  There was live translation being provided by the applicant to ensure the public knew what was going on.
After a long public hearing, long applicant testimony and lengthy remarks from the commission, this body voted 6-1 to recommend approval of the proposed Rezoning.  All of the public comments and planning commission deliberations would be forwarded in the Board packet.
The crowd applauded, people hugged, some even cried, but for the most part there were smiles all around – recommendation going forward.  Next step the Board of Supervisors.
Not so fast.
The Chair of the Planning Commission, Tim Keller had another idea.  According to his comments in last week's (7/30) meeting, he had a series of one on one meetings with other commissioners and drafted two 'Resolutions of Agreement' (ROA) for the Planning Commission to consider under new business.
ALL the Planning Commissioners knew this was coming – the public did not, I have been told staff was equally blindsided..  A representative of the applicant for Southwood was at the 7/30 meeting (on another matter) and was not informed of the discussion that was merely minutes away.
So a week after the citizenry gathered to be a part of the public process, in a room as empty as the previous week's was full.  Albemarle Planning Commission used a parliamentary procedure to enumerated all of the problems they had with the Southwood application that they approved 6-1.  They then endorsed, without so much as a single word change, an emotionally charged document challenging the applicant's integrity and questioning their commitment to affordable housing.
As each of you are keenly aware, The Free Enterprise Forum does not have a position on this or any other individual project but we feel your revisionist ROA policy is inconsistent with your stated desire for transparency, should be called out as double dealing and ended.
It may be legal, but it is not right.
Respectfully Submitted,
Neil Williamson, President
Neil Williamson is the President of The Free Enterprise Forum, a privately funded public policy organization covering the City of Charlottesville as well as Albemarle, Greene, Fluvanna, Louisa and  Nelson County.
Photo Credit: Daily Progress