By. Neil Williamson, President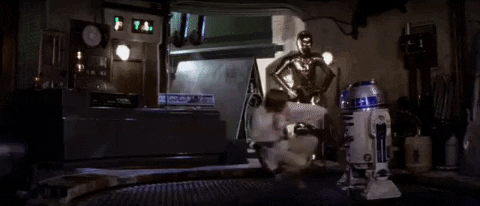 As Central Virginia local governments continue to wrestle with balancing meeting expediency, citizen involvement, and equitable access, the Free Enterprise Forum believes the 1977 classic movie "Star Wars" provides "a new hope".
In the movie, Princess Leia sends her favorite android, R2D2, across the universe in search of Jedi Knight Obi Wan Kenobi.  R2D2 carries a holographic message of the Princess making a case for his assistance.
"Help me, Obi-Wan Kenobi – you're my only hope" ('A New Hope') It's just a tiny blue image projected from R2-D2 in Luke Skywalker's garage, repeating that mysterious phrase over and over.
Back in March, we wrote about our concerns with the current public hearing process (You Won't Be, You Won't Be, You Won't Be  My Neighbor).  In that post we highlighted Boston University study indicating public hearing opposition is not representative of the community:
Einstein said the problem with this form of hyper-local public engagement is that it privileges concentrated costs over more diffuse benefits. A new protected bike lane would keep riders from all over the city safe, but the people who actually attend a meeting about its creation are typically the handful of neighbors who may soon have a harder time parking in front of their homes.

"We might think about neighborhood meetings as being this great way to empower underrepresented voices," Einstein said. "But our research shows that it is really more of a forum for empowering, typically, the most privileged segments who are often disproportionately opposed to the thing that's getting proposed."Emphasis added -nw
More recently, Charlottesville Mayor Nikuyah Walker and others have raised issues of equity and inclusion related to electronic public meetings.  Not everyone has the equipment or internet access required to participate.
Considering the marked increase in public participation in local meetings transmitted electronically (Zoom, webinar, and more), we believe we are not "getting the toothpaste back in the tube" so why not embrace the technology and go ALL IN. But do so in a manner that protects the integrity of the process and access for ALL (applicants, citizens, staff).
Here are four low-cost, commonsensical changes to Public Hearings to increase access and promote equity:
Create a new meeting paradigm, continue to use video conferencing when in person meetings return.  This hybrid meeting setup allows in person, zoom participants and recorded testimony.
Establish a bilingual zoning application call in number, use translation software and digitize the citizen comments. Include in meeting packet and/or play at public hearing.
Create a City Hall/County Office building Zoom Room (Or use existing library facilities) to allow citizens to drop in at anytime (during regular operating hours) to record three minutes of testimony on any issue facing the city/county.
Set up regularly at locality gathering places (Farmer's Market, Parks, Schools) to inform the public and solicit recorded testimony on public hearing items.
While we envision the cost of implementation of these efforts to be low, we believe the lift in true public engagement, across all political persuasions and all classes to be high.
We truly believe these four steps could be the "New Hope" for more inclusive, accessible and thus successful local public hearings.
Respectfully Submitted,
Neil Williamson, President
Neil Williamson is the President of The Free Enterprise Forum, a privately funded non partisan public policy organization covering the City of Charlottesville as well as Albemarle, Greene, Fluvanna, Louisa and  Nelson County.  For more information visit the website www.freeenterpriseforum.org
Photo Credits: Twentieth Century Fox, LucasFilms LTD